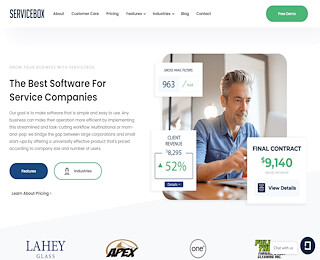 When we are running an electrical contracting business, there are dozens of tasks that need to be addressed, for example, customer service, creating estimates, searching for new clients, scheduling, looking for payment, issuing bills, and a lot more. All these things can get tough if handled manually. There are electrical contracting business software solutions that can be a life-saving and game-changer.
The ServiceBox is the best Electrical Contractor Software 2021. It is spot-on for assigning electrical contractors to manage their service business for optimal revenue generation.
To save electrical contractors and businesses from the tedious day-to-day affairs from field to office; software for electrical contractors is created.
Benefits Of Our Electrical Contracting Software
Electrician Dispatching:
With our software, you get the advantage to know where exactly your crew is. You can easily manage, schedule, and assign jobs making it more organized and speed up the task. The crew can get automated job assignment notifications and they can quickly work on that. Moreover, this helps to keep everyone on the same page delivering high productivity in terms of converted estimates, job statuses, invoices, and payment. We help to double workforce productivity.


Client Management:
With us, you can have organized customer information which enables you to keep up to date record of your service and billing history. Easy accessibility to customer history information and service location opens more opportunities and ultimately productivity in the field. Moreover, this also helps you with inventory management. With our amazing electrical contracting software, you can reap the benefits of accurate inventory information which include a track of parts, product, and electrical equipment.


Sales and Profit:
Who doesn't love profit which is ultimately the result of increased sales. With our software, you can take your business to the next level. A detailed review of your business status, productivity, efficient order dispatch, professional way in which orders are placed, power of our sales leads, and sales appointments help your business substantially. Our fully customizable approach with user-friendly behavior makes us successful electrical contractor service software.


Electrician Estimate and Billing:
To manage cash flow flawlessly and get paid faster reach us. In just a few clicks you can invoice easily to all your clients. This technology of our software helps you save your precious time giving you more time to spend on strategies to move business up. With our software, you highly eliminate chances of error of double-entry which also results in wastage of time.
No matter where your business stands currently, a good electrical contractor with flexibility, capability, and power can help you in accomplishing all your business goals and needs. For best electrical contractor software you can always count on us as we will help you maintain your business status and will only help in moving it in an upward direction. You can immediately identify business problems, efficiently manage technician routes, organize invoices, dispatch, bills, and other facilities. Our excellent services will assist in achieving consistent and repeatable profit margins. 
Contact ServiceBox to grow your business with the best software for service companies: 855-453-2967/
Or request a demo: http://getservicebox.com/demo-now/
Electrical Contracting Software